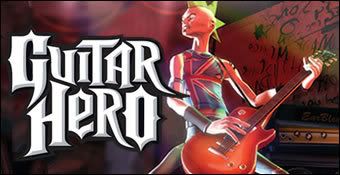 OMG OMG OMG!
Guitar Hero II Setlist (mostly) released!
Opening Licks:
Strutter - Kiss
Mother - Danzig
Monkey Wrench - Foo Fighters
Shout At The Devil - Motley Crue
Tonight I'm Gonna Rock You Tonight - Spinal Tap
Amp-Warmers:
Heart Shaped Box - Nirvana
Message In A Bottle - Police
Woman - Wolfmother (artist not confirmed)
You Really Got Me - Van Halan (Kinks)
Carry On Wayward Son - Kansas
String Snappers:
Surrender - Cheap Trick
Them Bones - Alice in Chains
Search and Destroy - Stooges (artist not confirmed, but it damn well better be the stooges!)
Tatooed Love Boys - The Pretenders
War Pigs - Sabbath
Thrash and Burn:
Cherry Pie - Warrant
Who Was In My Room Last Night - Butthole Surfers
Girlfriend - Darkness (artist not confirmed), some say Mathew Sweet
Can't You Hear Me Knocking - Rolling Stones
Sweet Child of Mine - GnR
Return of the Shred:
Killing In The Name - Rage Against The Machine
John The Fisherman - Primus
Freya - Sword (artist not confirmed)
Bad Reputation - (too hard to say, my guess is Thin Lizzy, but could be Joan Jett)
Jessica - Allman Brothers
Relentless Riffs:
Crazy On You - Heart
Trippin On A Hole In A Paper Heart - STP
Rock This Town - Stray Cays
Last Child - Aerosmith
Stop - Janes Addiction (artist not confirmed, but I really hope it's Janes Addiction.)
Furious Fretwork:
Madhouse - Antrhax
Already confirmed songs:
Hangar 18 - Megadeth
Laid to Rest - Lamb of God
Misirlou - Dick Dale
Beast and the Harlet - Avenged Sevenfold
Freebird - Lyn Skyn
YYZ - Rush.
Psychobilly Freakout - Rev Horton Heat
That's 38 Songs announced. There are only supposed to be 40 liscensed songs, plus 15 bonus songs. That only leaves two songs left to be announced.
HOLY SNIKES!
**Update**
You can listen to the majority of the songs --->
HERE